! Created using the FREE Meta tag generator at http://siteannounce.com ->




We are located in beautiful Trent Hills, at Trent River, Ontario Canada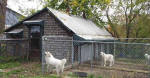 Our family consists of Myself, my husband Ron and our four girls, Ambre, Tamara, Kelsey and Shawna.
Our kennel is situated on 50 acres with plenty of open fields for our dogs to exercise in while chasing each other.
This idea of breeding, was created out of my desire to consistently produce and offer healthy, sound-minded, dogs without compromising correct structure.
Along with that is my commitment to honest representation, fair Guarantees, and ongoing advice & support.
All puppies born will be home raised, and have "INTENSE" early socialization. Not only by my four young girls, but with strangers and dogs of all shapes and sizes. I feel this is of the utmost importance. That is why I will not allow my puppies to leave their dam or this home till the are a least 9 weeks of age.....preferably 12 weeks.
My goal is to breed Great Pyrenees for temperament, health, soundness, and elegance.....in that order.
My ONLY purpose is to better the breed with the pleasure of knowing I am raising each pup with the best possible care and attention.
There are many important factors that go into breeding. Of course health is very important along with intelligence, and conformation, but to me what is essential above all else is excellent temperament. Even in the livestock guardian.
The Pyrenees should be as any happy goofy puppy and much more mellow as an adult. They should be loving, yet independent and I believe "tolerant". They should be good guard dogs for the purpose of alerting their owner, and protecting their flock, but by no means considered an attack dog. I strive for that sound personality.
My concerns for this breed are reflected in the priorities of my goals and my requirements for my owners. I WILL take back ANY dog that comes from my breedings at ANY time for ANY reason throughout it's life....therefore keeping them out of shelters and rescue. In fact I insist!
I hope to offer quality puppies for loving companion and show homes. I offer and will honor a written health and temperament guarantee.
Any dog that will be used in my breeding program will be OFA certified (hips, elbows), have their Patellas and eyes tested. And all puppies will be given a temperament test, so that I may better match the right pup to the right home. I will offer my puppy buyers support before the puppy goes home, and throughout life.
I do not take breeding lightly. I strongly believe in the breeding "Code of Ethics" set forth by our breed clubs. It is the only way to make sure health concerns are addressed, breeding the desired temperament is achieved and the type of the breed as described by the standard is preserved.
To me the overall soundness of the dogs (mental and physical) is the goal I am aiming for. This is not an easy task and I know there will be road blocks and set backs on the way as well as hard decisions to make in the future.
I hope that this can be a family affair and to incorporate my girls in the kennel side of things. Right now they are just having fun competing in juniors...and doing AMAZINGLY well if I do say so my self! ;)
If you have any questions on this wonderful breed please feel free to contact me. I donít consider myself to be an authority but rather someone who thirsts for constant knowledge and over the past many years I have gained considerable experience. I am always willing to answer any questions. I will not limit my availability to those who have purchased pups from me but rather to anyone who wants to care for their pup properly and educate themselves about the breed.
I firmly believe that the sale of a pup should not be the end of the relationship between breeder and buyer.
I am devoted to my own continuing education--as a breeder, exhibitor, and happy, privileged owner of this wonderful breed.
If you are interested in learning more about my planned breedings or wish to be placed on a waiting list for one of my puppies, please feel free to email me.
Sincerely,
Sariena Foley
Regalia Great Pyrenees
Great Pyrenees, breeder, Ch. Blue Steel Cotya Lookin Eh, Monark P for Poudlard, puppies for sale, puppies, Champions, LGD, Livestock guardian dog, Stud Dogs, Show dogs, pedigrees, dog shows
Pyrenean Mountain Dogs