! Created using the FREE Meta tag generator at http://siteannounce.com ->
Sariena, Ambre, Tamara, and Kelsey Foley
Trent River (Havelock) On, Canada


Hello and welcome to our kennel's home page!
We at Regalia Great Pyrenees are committed to producing dogs with the best possible temperaments, health, longevity, conformation & elegance.....in that order.
Whether it be for a companion or Show
We are proud members of the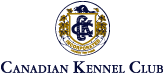 Please take a moment and read through my Pyr Faq's site. It tells you not only the good about the breed, but personality quirks, health issues etc. That you should make yourself aware of and be willing to except....BEFORE you consider getting one. Not every breed is suited for everyone.
Then if you are still interested in the breed please come back and read my breeding philosophy and goals in "About our Kennel"

(Updated November 2012)
We are excited to announce the breeding of Summer to Footsie (MBIS BISS Can/Am Ch Monark Playing Foots CGN).....litter expected January 27, 2013...Co-bred with Monark Great Pyrenees

We will be taking reservations for show and pet homes once pregnancy is confirmed. Our puppies page will be up dated regularly. For further information on the litter please email sarienaf@gmail.com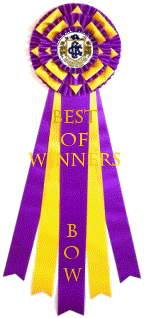 2011-After a long personal hiatus, Summer came out and picked up a 5 point major at the Purina National Pyr booster by taking WB and BOW, her puppy Rosalie took RWB with a good entry at her very first show!

July 1, 2010 (Canada Day)Summer gave birth to 5 fat and healthy puppies!! 3 girls and 2 boys! For Availability inquiries email s.foley@live.ca or call 705-778-1106 leave a message and we will get back to you. Pictures can be viewed on "puppies" page and will be updated as they grow :)

Poular ended 2009 as #1 Pyrenees in Canada (Best Dog in Canada system) #2 CKC standings....with VERY limited showing! He also was inducted into the....
Great Pyrenees Club Of Canada's Show Hall Of Fame and earned his American championship!
...We are VERY proud of him and his wonderful breeders Maxim Hudson and Sabrina Simard of Monark Great Pyrenees

Spring 2009
Poular will be standing at stud at Monark Great Pyrenees while they expertly campaign him
Inquiries can be made to monark@destination.ca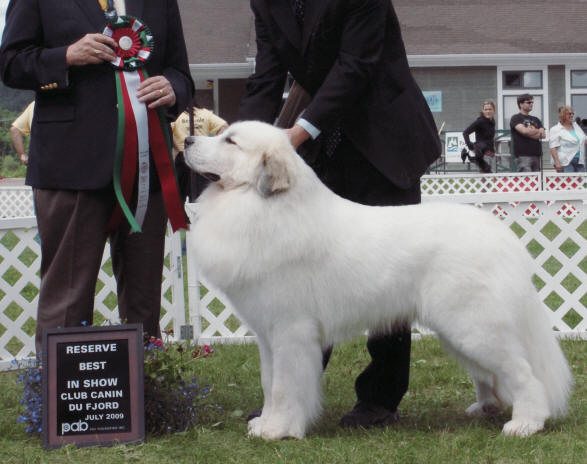 July 19/09
Club Canin du Fjord, QC -Poular wins a Group 1st then went on to win
Reserve Best In Show!!! Under judge Michael Wood

Poular wins Group 3rd under judge Doug Gaudin

July 18/09
Poular wins Group 4th under judge Heather Langfeld

then went on to win a Group 2nd under judge Avery Gaudin

June 6 & 7, 09 - Poular takes a group Group 2nd under Donald Emslie and a Group 4th under Rosemary Shoreman at the Club Loisir Canin show in Beauport, QC
04/26/09-Poular takes a Group 3rd at the Club Canin Rive-Sud De Montreal under judge Donald Fitzsimmons
04/25/09-Poular takes a Group 1st at the Club Canin Rive-Sud De Montreal
~~~~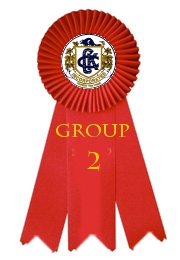 04/18/09-Poular takes a Group 2 at the Club Canin de L'Estrie in Quebec under judge: Richard Fehler

03/28/09- Poular goes WD/BW at the Central New York Kennel Club in Syracuse, NY
For his first 4 pt major towards his American championship!
October 2008-Poular completely out of coat, took the Breed then went on to win a Group 3rd! see pics here
April 2009-Updated puppies page with planned breeding

2008 Great Pyrenees Club of Southern Ontario Specialty
takes Best Puppy in specialty and Reserve Winners Bitch!
~~~~
Regalia is so VERY PROUD to announce that Regalia Lookin For Sum HotStuf
in her very first show at the tender age of 9 months, exclusively handled by my daughter Tamara, competed at the
2008 Great Pyrenees Club Of America's National Specialty in Ohio
She took 3rd in puppy sweeps under respected judge, Michael Floyd on Thursday, then on Friday under respected judge Keith Savage, went on to win FIRST in the 9-12 month puppy class!!!!
On Sunday her daddy: AM Ch. Maranatha Nicholas Nickleby, Summer and 1/2 sister Toosie, won second in a large Stud dog class!!!
See candid photo's here....
Pic's of her mama Zoey competing in the Open class...she made it to the final cut in a group of wonderful bitches, which is an honor itself! A HUGE thank you to all the American and fellow Canadian competitors who made us feel so welcome!!!
Congratulations
to my dear friends the Dyments at Pyrview who not only took winners bitch with their Mia, but my boy Solan took winners dog and best of winners as well!!! And Stacey Bennett-King who's wonderful sweet girl Mirage who took best veteran in show!!!!

Added new 9 mth pic's of Summer April, 08
Added new 4.5 month pic's of
~~~~~~~~~
Oct 02, 07
Added new girls page
Added 18 month pic's of Poular

PUPPIES HAVE ARRIVED!!!!!
Zoey gave birth to 3 gorgeous puppies on July 15th, 2007
See their picks here

2007 JUNIOR HANDLING ZONE 5 FINALS
We are very proud of our girls who 3 years in a row qualified for the finals. This year Ambre (with the Pyr) took 1st in
her Intermediate class on a head strong pyr pup!
Tamara (with the whippet) was awarded the newly
created first ever "Best Sportsmanship" awards!
All her peer junior handlers voted prior to the showing, on the handler who
they felt showed the best
sportsmanship like conduct throughout the year.....and she won!
Congratulations girls...you make your mamma proud!

NEW CHAMPION
Monark P For Poudlard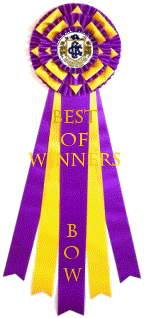 Fri Feb 16th at Ontario Breeders-Poular received WD and BOW under respected Judge Larry Kereluke for 3 points...then on
Feb 18th he took from the 12-12mth class WD, BOW and then BOB over the Special to finish him! A HUGE thank you to respected USA judge Mildred Bryant!
See his New CH and BOB photo here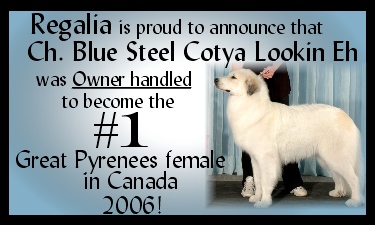 Dec 30th, 06- added new show pic's at Elora Gorge and Canadian National Specialty here

November 25th 2006

"Zoey"

Ch. Blue Steel Cotya Lookin Eh

takes

BOS at the

Great Pyrenees Club Of Canada's National Specially!!! pics

~~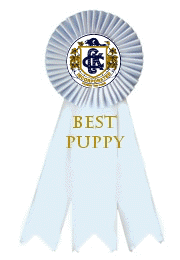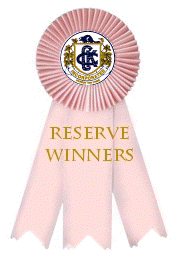 Monark P for Poudlard also takes Best Puppy in GPCC National Specialty and Reserve WD!!! pics
November 26, 2006: Poular does it again taking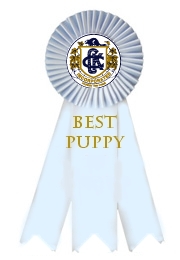 Best Puppy in The Great Pyrenees Club Of Southern Ontario Speciality!!!! pics

October 10, 06-

Added pic's of kennel in About our kennel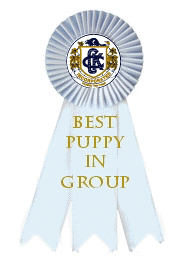 Sept 29, 06-

Poular does it again taking his

4th Puppy Group at the Pine Ridge kennel Club

~~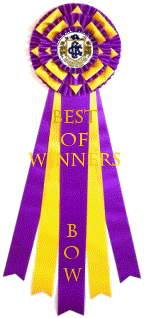 Sept 24, 06:
Poular @ 7 mths, takes WD, BOW and BP at the Scarborough Kennel Club Show under Respected judge Mr. J Rose
~~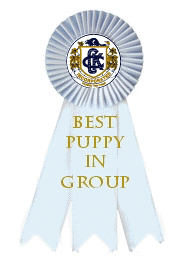 August 27, 06:

Poular does it again... winning Best Puppy, Winners Dog and Best Puppy in Group!

His 3rd consecutive Puppy Group win!

Thank you to respected judge Ms. DL Conod

~~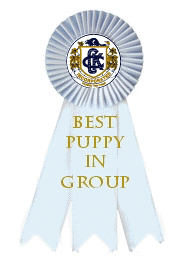 August 26, 06:

Poular at 6.5 months takes Best puppy and Winners Dog over mature males at the Pyr booster in Markham ON. He then went on to take

Best Puppy in Group! Thank you to respected judge Mr. Tougas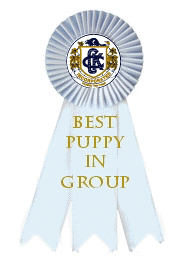 August 11, 06- Poular at his very FIRST show, on the very DAY he turned 6mths at Trio.....received
Best Puppy in Group !!!!!!
Thank you to respected Judge, Dave Patterson
See his new pic here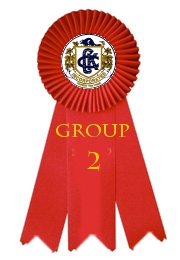 "Zoey" Ch. Blue Steel Cotya Lookin Eh
July 2006- Group 2nd under respected Judge Mrs. Honey Glendinning in Woodstock Ontario
See her show photos here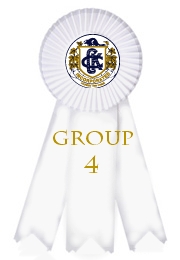 "Zoey" Ch. Blue Steel Cotya Lookin Eh
Received a Group 4th under respected Judge Mrs. Gelinas in Arnprior ON!
See her show photos here
Zoey also takes BOB and Group 4th in Kingston under respected judge Walter Pinsker


UPDATE!! Poular won Best in Group and Best Puppy in Group in the Bobcageon Kennel Club Sanction Match at only 4.5 mths. This was not only his first time at a show, but he barely had a leash on before! The judge mentioned that he acts like he's an old pro at this!
Please see other great sites on my Web Rings page
View My Guestbook
Sign My Guestbook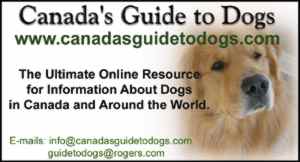 Dogs & Puppies - Next Day Pets - Provides a venue for a dog rescue and dog shelters to find quality homes for adult dogs and puppies with information for 150+ dog breeds. Shop our pet supply store for dog supplies, dog clothes, dog crates, dog toys, dog jewelry and more. Browse our dog & pet website directory, pet friendly hotels and dog names.
Great Pyrenees, breeder, Ch. Blue Steel Cotya Lookin Eh, Monark P for Poudlard, puppies for sale, puppies, Champions, LGD, Livestock guardian dog, Stud Dogs, Show dogs, pedigrees, dog shows
Pyrenean Mountain Dogs